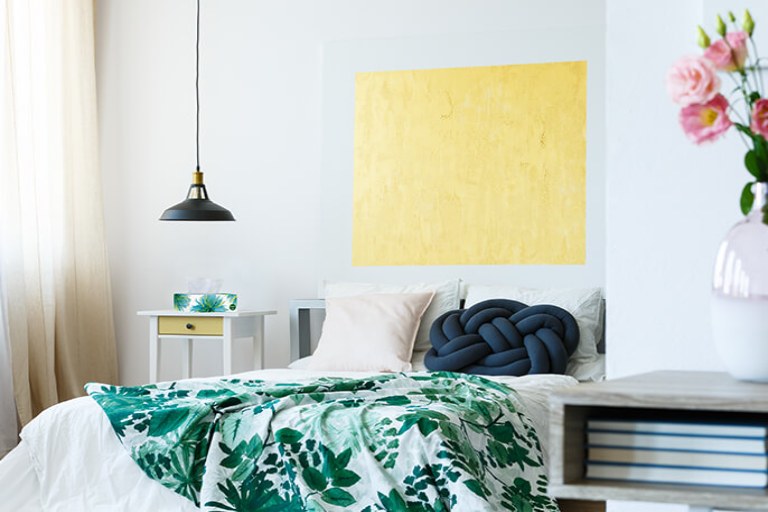 How to make a guest room comfortable and welcoming
We've all been in this position; someone has graciously opened their home to you and invited you to stay the night, but as you're preparing to settle in for the night, you realize something is missing. It could be an extra blanket or a box of 
Kleenex® facial tissues
, but it can be awkward to ask for anything when your host is already doing so much – especially late at night. That's why we've prepared this checklist of guest bedroom must-haves. So, when it's your turn to play host to a houseguest, your guests will have everything they need before they even ask.
How to Set Up a Guest Bedroom
Create a cozy and welcoming space

The most important thing for any guest in your home to feel is welcome. That means you can't just make space for them; you need to make a space for them. Adding a few accents, like throw pillows or a knitted blanket, can give the room a warm sense of comfort.

Keep it clean and uncluttered

First impressions are as crucial for guest rooms as they are for people. Barring the essentials, the room should be clean and clutter-free upon your guests' arrival so they can begin unpacking.

Always give guests more than what they will need

That means storing extra pillows, linens, bath towels, Kleenex® facial tissues, etc. somewhere that your guests can access easily.

Consider the décor

Your guest room shouldn't feel separate from the rest of your home. Otherwise, the room might come across as an afterthought. The exception would be if you plan to rent the room as an Airbnb or short-term rental. In that case, you might consider theming the décor to your local environment. You could give the room a beachy vibe if near the water or incorporate wall art showcasing your city. The extra effort could help you score higher reviews.
17 Must-Have Items to Put in Your Guest Bedroom
Kleenex® Ultra Soft™ Facial Tissues

Kleenex® Ultra Soft™ facial tissues have 3 layers of softness for delicate skin, allowing guests to blow their nose, wipe their hands, or remove their make-up with ease while protecting their face. Keep a box handy on the night side table or desk. When only the softest facial tissues will do, choose Kleenex® Ultra Soft™.

Comfortable Bed

When picking out the best bed for your guest room, consider who your guests are likely to be. Do you typically get couples or families? Are you hosting friends for overnighters, or are you considering renting your guest room through a short-term rental company? Make sure to pick the solution that works for the majority of your expected guests.

Side Table

The side table will probably be the only thing within arm's reach while your guests are in bed, so make sure to put it to good use with a convenient reading light, hand cream and a box of Kleenex® facial tissues.

Dresser

Keeping an empty dresser in the guest room will allow your guests to unpack their suitcases and truly feel at home.

Small Table and Chair

A few extra pieces of furniture can dramatically increase the functionality of the room.

Closet Space & Hangars

If your guest brought along a dress or any kind of formal wear, they'll be grateful to have a place to hang them up and keep them wrinkle-free.

Good Lighting

Proper guest room lighting helps to create a more welcoming atmosphere for your guests, allowing for activities like reading and dressing.

Mirror

A mirror can both make the room seem bigger and give your guest an easy way to check their appearance before heading out for the day.

Fan or Heater

A personal heater or fan is a nice touch for guests to make sure their room is climate controlled to their liking. Some people also prefer to sleep with white noise, so a fan is a great way to ensure they get a good night's rest.

Books

Adding a few interesting books to the room can help elevate the décor and give your visitors something to peruse during their downtime.

Garbage Bin

A simple, yet often overlooked convenience that can help guests keep the room clean.

Comfy slippers

There's a reason that high-end hotels supply this simple luxury its guests. Welcoming your guests with a pair of comfy slippers is a surefire way to impress and add to their comfort.

Phone charger

One of the most critical items for a guest to bring, yet also a commonly forgotten one. Help your guests stay connected by keeping a plug-in USB adapter available for their use. You should also consider stocking at least one of each common cable type: USB 2.0 Micro B, USB-C and Apple's Lightning.

Smart TV

Let your guests catch up on their favorite shows the right way by supplying them with a smart TV with built-in streaming apps.

Coffee & Tea

It's not a quite a continental breakfast but giving your guest access to a selection of coffee and tea means they don't have to come out to the kitchen before they get dressed. A simple kettle is enough to brew tea, but consider providing a small coffee maker with a selection of pods, along with some creamers and sugar.

Snack basket

Keeping a small assortment of snacks in the room can go a long way in satisfying a guest's midnight cravings. Some healthy and indulgent ideas include nuts, dried fruit, quality chocolate bars, kettle chips, popcorn, mints, and gum.

Kleenex® On-The-Go Packs

Leave a few of these convenient tissue packs, made of 3-layers of our extra soft facial tissues that deliver gentle care and relief, on the bedside table and bathroom. Guests can tuck these Kleenex® On-The-Go Packs in their bag or pocket when they step out for the day so that the superior softness of a Kleenex® facial tissue is always within reach.
10 Bathroom Essentials To Make Your Guest Bathroom Welcoming
It's time we talked about the second most important room for your guests: the bathroom. Keeping your guest bathroom well-stocked will ensure your guests' stay is always a pleasant one.

Cottonelle® Toilet Paper

If there's any one item a bathroom should have, it's toilet paper, and Cottonelle® provides more clean in one go vs. the competition. But it's important to keep spare rolls handy in case your guests run out. Try using a nice basket or toilet paper holder to display extra rolls, making it convenient when they need to re-fill.

Cottonelle® Flushable Wipes

Gentle and effective Cottonelle® Flushable Wipes are designed with CleaningRipples™Texture and the cleansing power of water to help you feel confidently clean. Pair these with Cottonelle® toilet paper for a refreshing clean routine that leaves you feeling ahhhhhmazing. Plus, they're plastic free and eco-friendly†, with fibers 100% biodegradable and are designed to immediately start to break down after flushing.

Hand Soap

After toilet paper, hand soap is the most important item in your bathroom. Use a refillable pump to save on waste.

Toiletries

Make sure you keep a small supply of anything your guest might need, like spare toothbrush, toothpaste, shampoo, conditioner, shaving cream & razor, shower gel, cotton swabs, nail file, etc.

Feminine Hygiene Products

You can never be sure when a guest might be in need of feminine hygiene products. Keep a box of tampons, pads and liners under the sink or in a medicine cabinet so they can help themselves.

Fresh Towels

There's nothing more inviting after a long day of travel than a clean bed and fresh, fluffy towels. Having these little luxuries waiting for your guests upon their arrival is sure to kick off their visit on the right foot.

Hair Dryer

This hair essential can take up a lot of luggage space so some guests may arrive without one. Providing a hair dryer in the bathroom will certainly be appreciated.

Hooks

A set of wall or over-the-door hooks will help keep your guests' clothes off the floor and gives them a place to hang their coat or bag.

Plunger

The last thing a guest wants to ask for is a toilet plunger, so keep one handy in the bathroom so they can tackle small clogs discreetly.

First Aid Kit

Accidents happen, but they don't need to ruin your guests' vacation. Keep a first-aid kit in an easy-to-find spot in the bathroom so your guests can easily and quickly treat any bumps or scrapes they suffer on their travels.
Additional Considerations for your Guests
Spare Key

This is mandatory for short-term renters. But even if you just have friends or family visiting for a few nights, providing a key will give your guests the freedom to come and go as they wish without worrying about getting locked out.

Wifi-Password

Save yourself the trouble of telling each guest how to access your network by printing out your wi-fi login information on a card and leaving it in an easy to find location. If your guest room is used as a short-term rental property, you can include it with your welcome package or in-room information binder.

With these simple tips and a little TLC, you'll easily create a warm, welcoming guest room that will make them feel right at home.
---