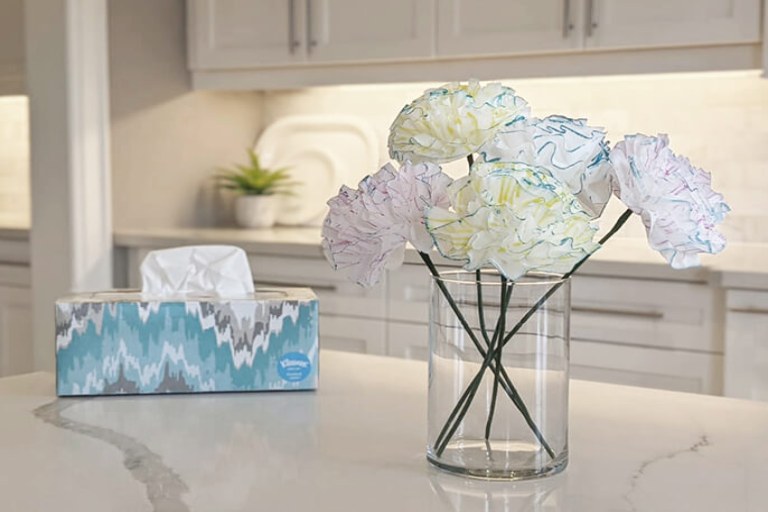 There's something special about flowers that makes everyone smile and adds an instant pick-me-up to any room in your home. While fresh flowers are beautiful, there's something to be said about a homemade craft made with love to show you care.

These DIY Kleenex® facial tissue flowers are a fun craft idea for you to make at home with your kids (or the kids in your life!). They are super easy to make and are a great gift for everyday moments to brighten someone's day. The best part is, they require no care and don't need watering! Just add to your favourite vase and display in every room of your house.

Express your creativity and design your Kleenex® tissue flowers with different colors to match your home décor, customizing for each room.

Kleenex® Trusted Care® facial tissues are Canada's best tissues for everyday use, so it's easy to stock up on these tissues and have a few left over to make this beautiful DIY craft.
Supplies You'll Need for this DIY Project
3 pipe cleaners
Scissors
Marker (any colour of your choice)
Floral tape
5 faux floral stems
Makes 5 Kleenex® tissue flowers.
Step by Step Guide to Making Tissue Flowers with Kleenex® :
Step 1.

To make one flower, fold two Kleenex

®

 Trusted Care

®

 or Kleenex

®

 3-ply Ultra Soft™ facial tissues in half and cut the fold so each tissue becomes two rectangles.

Step 2.

Stack all four tissues on top of each other and use the marker to lightly color the two long sides of the tissue pieces. You don't have to be precise. In fact, the more uneven the marker colouring is, the more natural your tissue paper flowers will appear. For those wanting a more colourful design get the creative juices flowing by adding additional colours and patterns to the tissue.

Step 3.

Accordion-fold the Kleenex

®

 tissues together, making a bow shape.

Step 4.

Cut one of the pipe cleaners in half and wrap it around the centre of your tissue bow.

Step 5.

Twist the ends of the pipe cleaner together then trim the pipe cleaner so it extends only 1.5 cm from the base of the flower.

Step 6.

Separate the individual pieces of tissue from one another, peeling each layer toward the flat center pipe cleaner (the opposite side of the pipe cleaner stem).

Step 7.

Repeat Step 6 on both sides of the tissue bow.

Step 8.

Attach the pipe cleaner stem to the faux floral stem using floral tape.
And, that's it!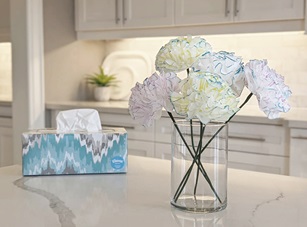 We'd love to see your Kleenex® tissue papper flower bouquets! Share your creations with us by tagging @Kleenex and #KleenexCrafts.
---